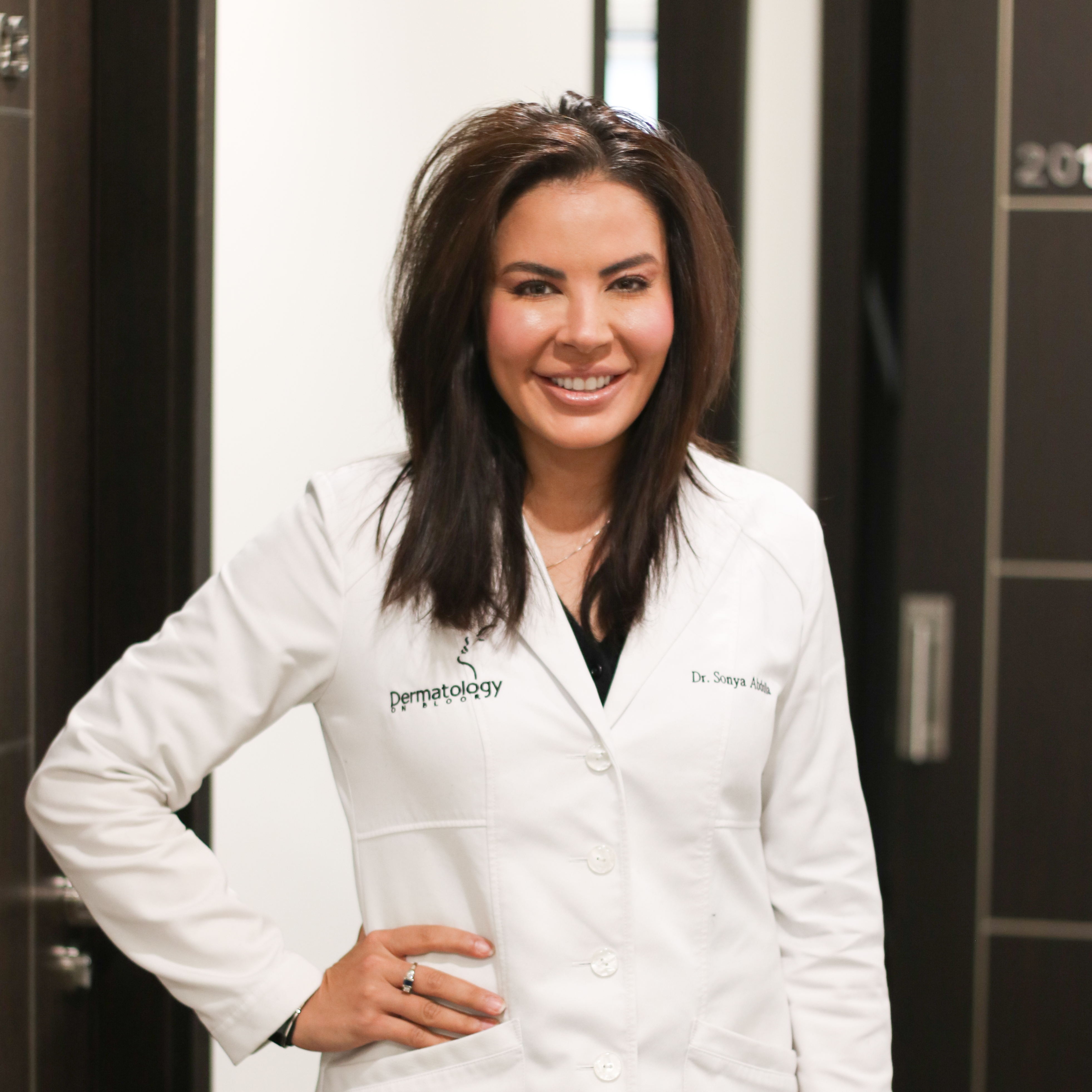 Dr. Abdulla gives us a mini masterclass in where your acne comes from – and what you can do about it.
What causes acne?
Acne is complex.  It is triggered by 4 major pathways including occlusion of the hair follicle by sticky corneocytes, increased sebum production triggered by hormones, presence of pathogenic C acnes bacteria and lastly, inflammation.  Inflammation was previously thought to be a result of these other factors but we now recognize that preceding inflammation sets the stage for acne before the first spot even appears, emphasizing the need for both active and preventative treatment.
There are a number of contributing factors that can trigger acne including stress hormones, lack of sleep (again stress hormones!), diet, smoking, occlusion from increased humidity, sweat and even skincare.
Acne has a distribution for the face, chest and back, although you may not necessarily see all of these in the same patient.  Acne on any area of the body warrants treatment since it can lead to discolouration or scarring.
In adult women, we tend to see a more classic distribution on the lower face – along the jawline, chin, extending into the neck.  Many refer to this as hormonal acne. In the majority of cases, hormone blood levels are normal but patients develop hormonal sensitivity in these areas leading to tender, deep seeded nodules.
What are the best treatments and products for acne?
When selecting treatments for acne, they should target as many of the triggering pathways as possible. Common OTC ingredients used include AHAs, BHAs, benzoyl peroxide and retinol. Although these are highly effective, they need to be used in an appropriate manner (ie.less is more) since they are often drying, irritating which can simply trigger more inflammation. I will typically recommend a wash with active ingredients followed by an acne corrective treatment – with spot treatment or all over depending on the severity. This should be followed by a gentle moisturizer to look in hydration and prevent irritation.

There are many medications also available by prescription including prescription strength retinol (tretinoin, adapalene, tazarotene), combination medications with benzoyl peroxide and another agent (clindamycin or adapalene) and anti-inflammatory treatments like topical dapsone. These can be used in isolation or combination depending on the patients needs. It is important to recognize that topical treatments will continue to work as long as they are used. Once stopped, the acne often recurs, emphasizing the need for maintenance.

More extensive cases of acne may require the addition of an anti-inflammatory antibiotic by mouth. Antibiotics are playing less of a role in our practice in order to prevent anti-microbial resistance and typically limited to 3 months.

Additional treatment options exist for women including the oral contraceptive pill or anti-androgens such as spironolactone. Both excellent choices in female adult acne.

Lastly, isotretinoin is the gold standard for nodulocystic acne, any acne not responding to conventional treatments or where there is evidence of scarring. Patients should plan to be on treatment for minimum 6 months in order attempt remission. Although isotretinoin is highly effective, some patients do require a second course of treatment in the future.

How common is acne?
Acne is very common – it affects 20% of Canadians. We are seeing earlier onset of acne, as early as 8-9 years of age. Acne first presents in late childhood or early adolescence due to a surge in hormones. It affects 99% of adolescent patients. Of patients who have teenage acne, 25% will continue to have acne as an adult. Among women, 20-40% of women continue to have acne after the age of 25 years.

What treatments can be used for acne scarring?
Treatments for acne scarring have evolved. The first step involves a consultation with a cosmetic dermatologist to ensure the acne is clear and that it is appropriate to engage in scar reduction. After examining the area, a personalized treatment plan is established for the type and quality of the acne scars. Treatments options include chemical peels for minor discolouration, gentle lasers such as Clear and Brilliant for discoloration and pore size, as well as more advanced treatments for true scarring such as microneedling (SkinPen), microneedling with PRP (SkinPen +PRP), microneedling radiofrequency (Infini), fractional non-ablative resurfacing (Fraxel) and fractional ablative resurfacing (Pearl, eCO2). These each require a series of treatments based on the treatment area and severity of the scarring – these elements are discussed at your consultation, as well as the timeline for engaging in treatments. Injectable fillers can also be used under acne scars to smooth the areas involved. Each of these treatment have their own list of considerations and treatment selection will be based on your individual needs and lifestyle.

How much does acne scarring treatment cost?
Treatment cost is variable.  It will depend on the severity of the scars and class of treatment.  Each of these laser or energy-based treatments requires a minimum treatment series of 4-6 sessions for best results.  Like anything, patients should treat to the point they are happy. For injectables this is typically repeated on an annual basis with temporary fillers (Belotero, Radiesse) or over 2-3 sessions with permanent injectables (Bellafill).

As a first step, see a dermatologist for consultation to confirm the diagnosis and establish a personalized treatment plan.  In Ontario, acne consultations require a referral from your family doctor. Once the consultation request has been received, you are free to contact the clinic to make an appointment.