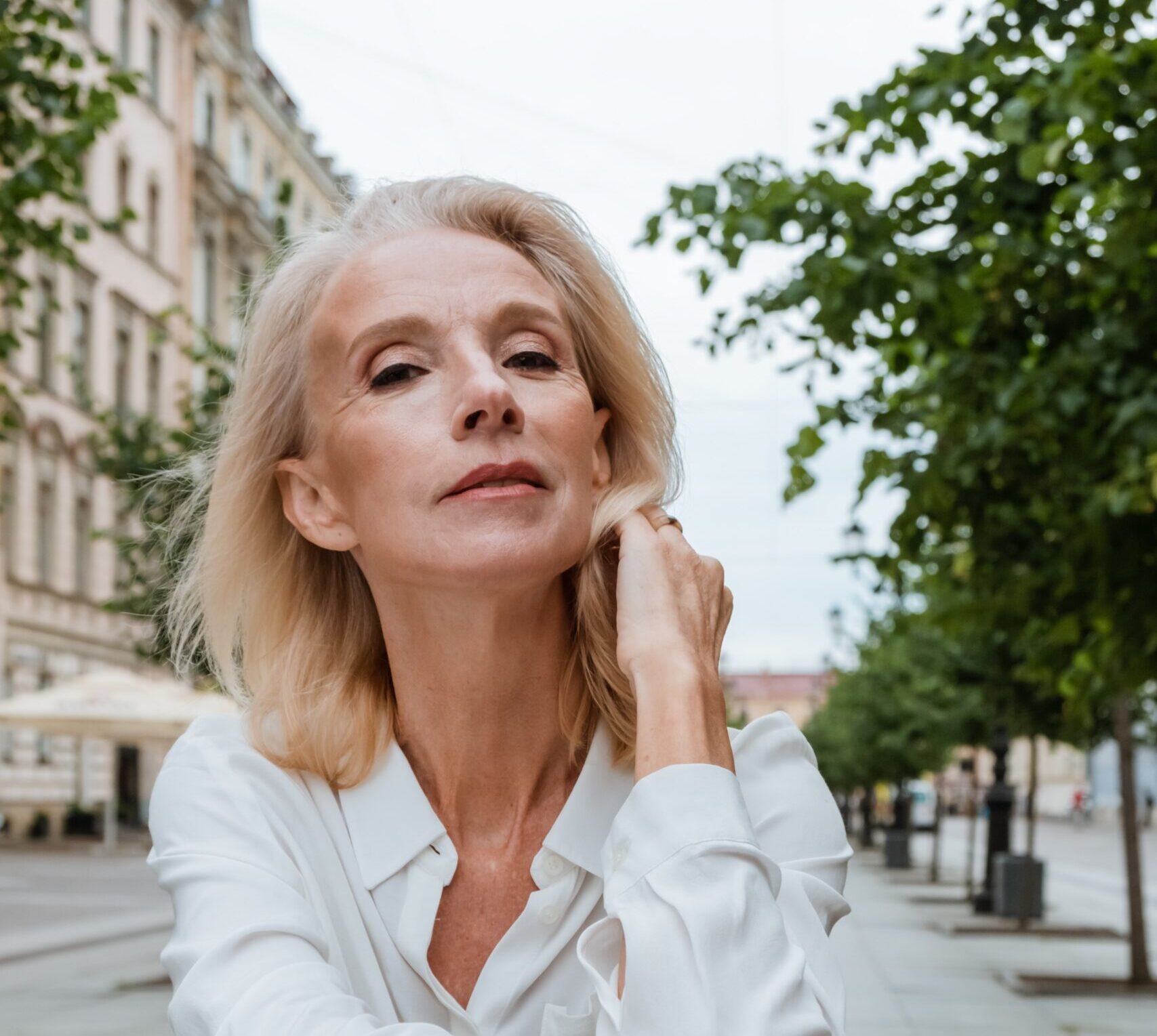 Aging skin is beautiful.
Welcome to Part Two of our Celebrating Aging series!
We're exploring how to look your best at any age and love the skin you're in. Join us on a journey to explore treatments that revive your look at any age, and give you a boost– while honouring your natural appearance.
Last month we explored dermal fillers and how they can refresh your look in a natural, subtle way that still honours your maturity and timeless beauty. This month we're talking about aging skin, and how to achieve the best results for a gorgeous glow.
Why is my skin changing with age?
It's normal for skin to lose laxity, shape, or fullness as we get older. Once you better understand why your skin is changing with age, you'll be able to better respond with skincare, habits, and treatments that properly suit your goals for your skin. For example, when we know that collagen production decreases with age, we also understand why collagen supplements or treatments that boost the body's collagen production are so effective on aging skin. Similarly, products with hyaluronic acid can help compensate for the changing moisture barrier in aging skin.
The effects of aging on your skin
Your lifestyle, age, ancestry, skin type, habits, and diet all affect the way your skin ages.
Exposure to sun damage and natural wear can cause pigmentation, age spots, discolouration, and moles.
As aging takes place, pores may increase in size and blood vessels can become more visible on the surface of the skin.
Collagen and elastin production decreases naturally with age, which can cause our skin to lose laxity, volume, and fullness. It may also take our skin longer to heal.
Over time our skin produces less hyaluronic acid, which can leave skin feeling more dry and less youthful.
Five great skincare tips for aging skin
The best treatments and responses to aging skin restore a natural, youthful energy to your skin without making you look like a different person. But before we talk about treatments, let's look at some simple ways to address signs of aging and improve the quality of your skin. At Dermatology on Bloor we believe that each patient's skin is beautifully unique and should be celebrated. There's a lot you can do at home to ensure your skin is protected, hydrated, and healthy.
1. Drink water, avoid cigarettes and eat well.
We all know that drinking water is good for you, but it's also an incredible tool to hydrate and clarify your skin. A balanced diet also helps give skin a healthy glow. Healthy fats like avocados, eggs, and nuts are also helpful in restoring skin's natural moisture barrier. The omega-3 fatty acids found in eggs, fish, or supplements can reduce inflammation and redness, restoring fullness to skin. Ask your doctor about supplements and information in maintaining a diet rich in vitamins A, C, E and D. If you're a regular or casual smoker and have concerns about the appearance of your skin, it's important to remember that (even beyond causing cancer), the chemicals in tobacco can exacerbate signs of aging and hair loss.
2. Use high-quality, medical-grade skincare products.
We love meeting with our patients for skincare consultations. This allows us to create a skincare regimen with products that are specifically designed to meet your skin's needs, and meet your goals for your skin. If you're a soap-only type of skincare person, or if you don't have any products that a professional recommended for your skin, it's time to come see us! The habits you have affect your skin and how it ages. Medical-grade skincare and serums can transform skin just as dramatically as invasive treatments can; and you'll save money and time by being proactive with your skincare.
3. Be conscious of your environment, and respond accordingly.
You may notice your skin getting drier as you get older. It's normal to notice more dry or itchy patches on skin, or to notice wrinkles and lines more when your skin is dry. Especially as we head into winter, dry indoor heat can parch skin and advance signs of aging. Use a fragrance-free moisturizer or lotion, and consider getting a humidifier if you suffer from dry skin to restore moisture in a dry indoor environment. If you're heading to a warmer climate, consider how you'll protect your skin from environmental stressors.
4. It isn't too late to be preventative!
As we get older, we all notice pigmentation, sun spots, and other signs of damage on our skin. While a lot of damage is done earlier in life, it's not too late to protect your skin and prevent future damage.
Choose a great medical-grade sunscreen with 50+ Broad Spectrum UVA/UVB protection. Wear sunscreen even while you're inside; our computers emit light that can damage skin too.
Screen regularly for changes or new marks on your skin, like moles or sores that don't heal, and stay aware of problematic spots.
Change your skincare regimen to include protective serums, hydrate deeply, and address lines and wrinkles.
5. Explore treatments for aging skin
At Dermatology on Bloor, we offer a myriad of treatments that address signs of aging like sun spots, lines and wrinkles, loss of volume, lax skin, thinning skin, and more. Stay tuned to our blog next month as we explore the possibilities of these treatments for aging skin– and how they can restore, refresh, and revitalize your skin.
Your beauty is timeless.
At Dermatology on Bloor, our goal is to celebrate aging and honour the healthy change in aesthetic that comes with time.
We believe that the treatments you choose can refresh youthful energy into your look without making you look like anyone other than yourself!