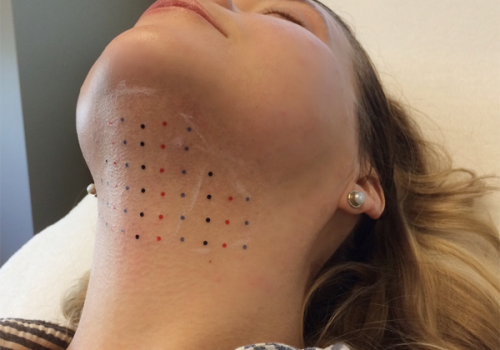 Schedule a consultation now
Deoxycholic Acid is the active ingredient in an injectable prescription medicine to reduce the fat under the chin, known as "submental fullness". Deoxycholic Acid is naturally found in our bodies to aid in the digestion and absorption of dietary fats. When the drug is injected into the fat pocket it is able to breakdown the fat cells which the body then absorbs and excretes.
The treatment protocol is tailored to the patient's individual needs. In a short 15-20 minute in-office procedure, the physician will inject a small amount of the drug in a grid pattern over the area of concern. Most patients see visible results in 2-4 treatment sessions, but some patients have required up to 6 sessions to achieve satisfactory results. Treatment sessions are spaced at 1-month intervals, and once the fat cells are gone, they are gone for good.
The treatment does result in some initial side effects, such as swelling, redness, numbness, tingling, and bruising at the injection site. It is advised to schedule your treatments a minimum of two weeks before any major social events.
Why should you be treated at Dermatology on Bloor?
Dermatology on Bloor was one of the first practices in Canada to offer this safe and effective contouring injectable drug. Our clinic participated in the clinical research that brought the drug to Canada. Our years of experience with this injectable solution, combined with our innovative techniques and aesthetic expertise makes Dermatology on Bloor the best clinic in Toronto to have your Deoxycholic Acid injections.
Schedule a complimentary consultation with one of our expert cosmetic injectors to learn if Deoxycholic Acid injections are the right treatment for your concern.
Deoxycholic Acid Injections are able to addresses the following concerns: