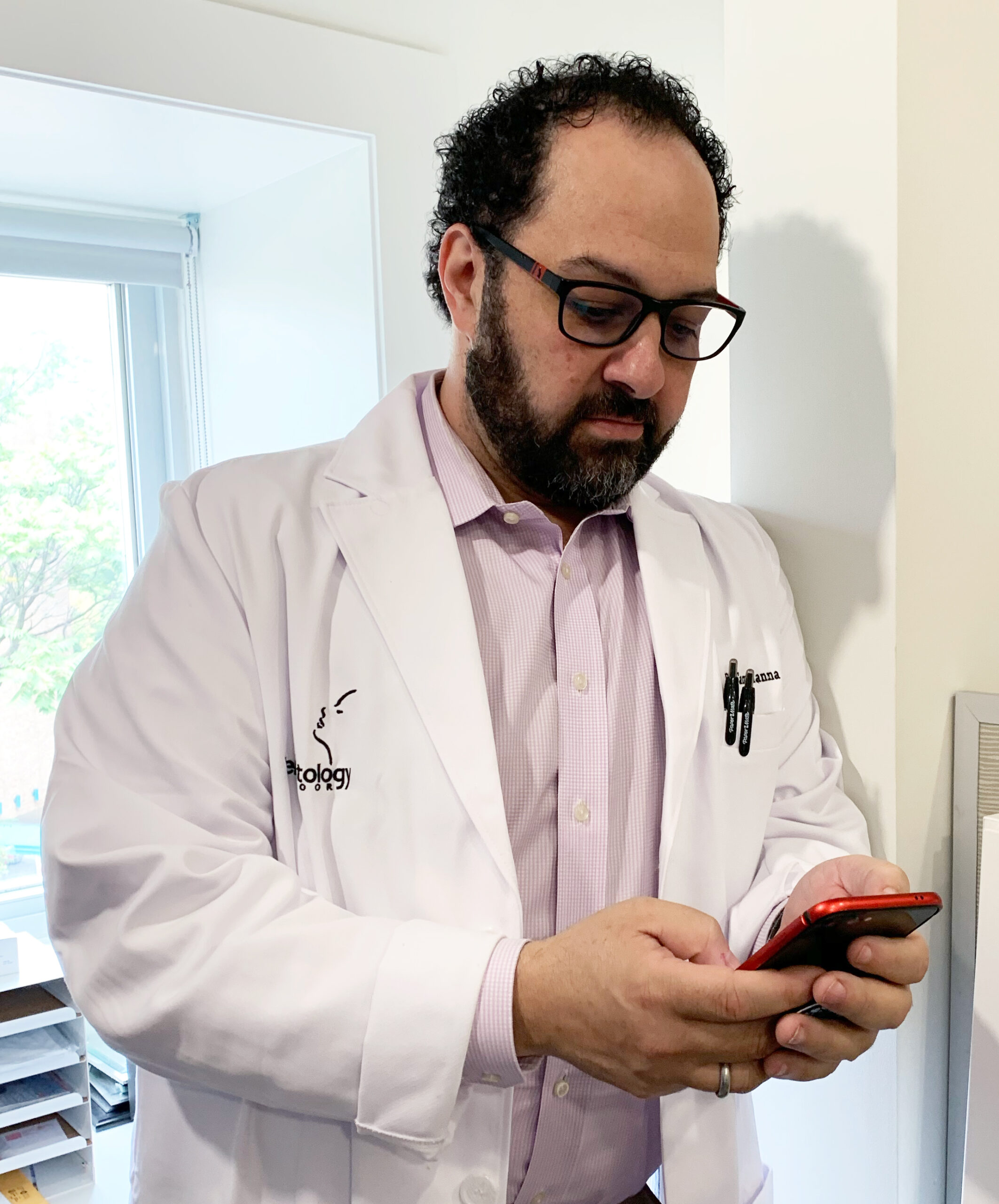 Dr. Sam Hanna answers the questions you wish you could ask.
---
The best dermatologists look beyond the skin's surface.

At Dermatology on Bloor, we're passionate about innovation and quality care that puts our clients first. Dr. Sam Hanna is a great example of the qualities we value as a clinic; an industry leader in skill level, insight and expertise. As a board certified dermatologist and a recognized expert who is regularly called upon to educate physician colleagues, he is constantly building on his wealth of experience and knowledge to create a more inspiring experience for every patient who walks through our doors.
---
Get to know Dr. Hanna!
What drew you to the Dermatological field?
I love that every day is different! I see medical concerns like Acne, Rosacea, Psoriasis and Eczema and no two cases are alike. I have lots of fun helping people look and feel their best with the many cosmetic procedures I offer. I enjoy using the laser and energy-based technologies we offer, and providing injectable solutions. I'm passionate about doing additional clinical research to help bring new treatments to market.

What do you love about your job?
My patients! I love helping people look and feel better by addressing their cosmetic concerns and skin issues. The patients at Derm on Bloor make it fun and rewarding to come to work every day.

What is the skin concern you hear the most often?
People often say "I want to look younger." I think that has become shorthand for some general dissatisfaction related to changes from aging and sun damage. Generally, we discuss what that dissatisfaction stems from and ways we can use the tools at our disposal to make meaningful changes that are authentic to the individual.
What is one Derm Myth you would most like to bust?
Where to begin?! People believe dietary changes can resolve acne, eczema or psoriasis but there's little evidence to support that. I also spend a lot of time discussing the belief people have that "natural" or "organic" products are actually better or safer than well-researched products. They're not!
How do we really get rid of undereye circles?
Under-eye circles are my white whale! They're hard because there are many causes for them. Genetics play a role, but changes related to aging, smoking, etc. make them worse. Combination therapy with lightening products, growth factor containing products, energy-based devices like lasers and fillers can really help to minimize the appearance of undereye dark circles.
What is one thing you wish everyone would do to look after their skin?
Easy; use sun protection EVERY DAY. There's a lot we can do to undo some of the damage caused by a life of UV exposure – but nothing is as good as avoiding as much of that damage as possible in the first place!
What is your favourite skincare product?
So many come to mind! It's winter now, so SkinCeuticals Triple Lipid Restore is great for patients with significant cold-weather dryness.
What is your favourite treatment?
I've been so excited to see the results of Micro-Focused Ultrasound (Ultherapy) in my patients. This no-downtime procedure produces lifting and reduction in skin sagging. What began as (and remains) an amazing procedure for facial and neck skin tightening has also turned out to be great for non-facial areas like the décolleté, abdomen, thighs/knees and buttocks!
If there's one piece of advice you could give your younger self about skincare, what would it be?
Use sunscreen everyday and don't pick pimples!
Can you ever truly get rid of blackheads?
As long as we're really talking about blackheads then the answer is yes. Very often, patients talk to me about "blackheads' ' that they see in their magnifying mirror, often on the nose and forehead. In reality, these dark microdots aren't really blackheads. Our skin's normal function is to produce a lipid mixture called sebum whose function is to be secreted into the pores and follicles to lubricate the skin and hair. When this sebum is exposed to air it undergoes a process called oxidation which turns it dark. If you squeeze gently (though I'd recommend you don't!) you'll see a thin thread-like yellowish projection with a dark dot at its tip coming from the pore. This "sebaceous filament" is normal even though people hate it! To minimize their appearance, gentle daily cleansing and moisturizing coupled with the use of a retinol containing cream or gel can help. Pore minimizing procedures like Intense Pulsed Light and Clear + Brilliant (fractional diode laser) can help. However, as this is a normal process; management needs to be ongoing as these dots will tend to continue to occur.
What do you like to do to unwind?
I'm a woodworker! When time permits, I love to turn bowls and vases out of various woods and resins. I've been known to make furniture at times as well. If you look around the clinic you may see a piece or two I've turned or built!
Cats or dogs?
Yes! We have 3 cats, 2 dogs (and 3 rats!) at our house.
Rats! That's all the time we have. Thank you, Dr. Hanna!
Ready to rejuvenate and invigorate your skin?
We'd love to help you take the next step of your skincare journey. Book a consultation today and get your glow back for 2020.